Flare Finance, the first-ever decentralized financial ecosystem based on Flare, announces that its onboarding of testers is now closed. The DeFi team claims it received 1,000 applications from enthusiasts!
Tester team is locked and loaded
To stress test the performance of its ecosystem, Flare Finance invited all enthusiasts to join its Beta Testnet program. However, according to its announcement, the activity of applicants was far greater than expected.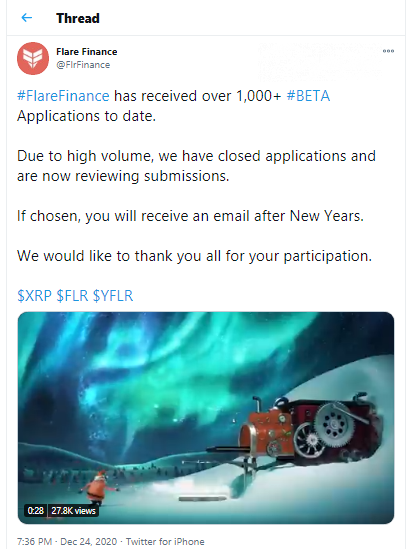 Image via Twitter
Thus, the process of hiring testers has closed. Flare Finance's team started to review submissions. Successful candidates will be informed by email in January.
To reward enthusiasts, Flare Finance launched an NFT bonus program. "Exemplary" members of Flare Finance's beta testing crew will earn one of 300 "Samurai Badge" NFTs. Besides being a very rare tokenized collectible, this asset will provide its owner with several bonuses.
As covered by CryptoComes previously, Flare Finance launched its closed Beta in mid-December. Enthusiasts with various levels of experience were invited to take part in an "early birds" isolated campaign.
Christmas XRP giveaway by Flare Finance and FlareScan
To celebrate the Christmas holidays, Flare Finance also launched an XRP giveaway. To take part in this promotion, Flare enthusiasts are required to subscribe to Flare Finance and FlareScan Twitter accounts and tag three friends in the comments section.
In addition, all participants should spread the word about the promotion to their Twitter audiences.
Flare Finance is tasked with building a pioneering DeFi ecosystem on Flare (FLR), a programmatic "utility fork" of the XRP Ledger remittances instrument.
Active since Q3, 2020, it also released FlareScan, an explorer of Flare addresses, balances and transactions.