Chainlink (LINK), the native token of the eponymous decentralized oracle platform, recently plunged to an intraday low of $13.52 on the Binance exchange.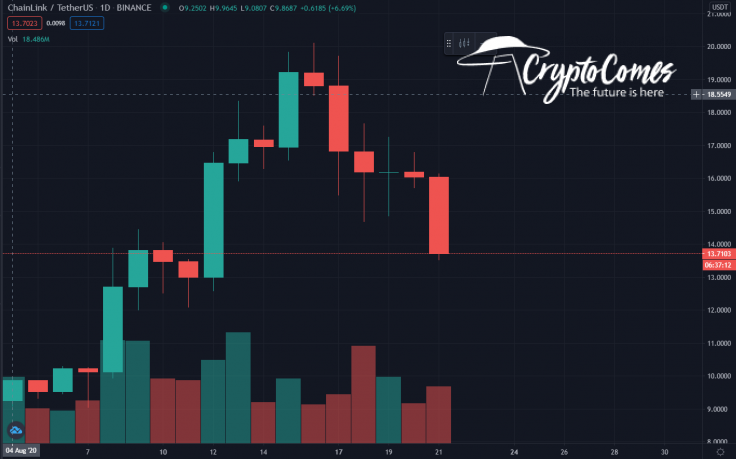 image by tradingview.com
The cryptocurrency whose stellar rally has been on everyone's lips for the past few weeks, has been correcting since Aug. 16, the day it reached its all-time high of roughly $20.

LINK has now slipped below Bitcoin Cash (BCH), the leading Bitcoin (BTC) fork, on CoinMarketCap, occupying sixth place.
Dave Portnoy turns on LINK Marines
As reported by CryptoComes, Barstool Sports founder Dave Portnoy put $200,000 into BTC and $50,000 into LINK during his much-hyped meeting with the Winklevoss twins on Aug. 13.

Back then, the token was changing hands at roughly $16.45, meaning that the controversial daytrader had decent returns on his investment. Portnoy even declared himself the captain of "LINK Marines" to display his support for the buzzing community.
Now that token has been bleeding for days, Portnoy has changed his tune, and he now says that he's "officially out of LINK" during his recent BlockFi-sponsored livestream:
"They couldn't fight their way out of a paper bag! Every day, it's down more and more. This would never have happened on my watch!"
Without mincing words, he says that LINK Marines "have been run over like D-Day," voicing his frustration with the community.
LINK is still up 914 percent
While LINK is already down 32.31 percent from its all-time high, the token is still up a staggering 914 percent since the "Black Thursday" of March 13. This means that the vast majority of addresses are still sitting on huge profits.

According to data provided by analytics firm Santiment, this week's crash was mainly driven by whales.