The head of Block.one, the company behind EOSIO, Brendan Blumer, has taken to Twitter to announce that Bullish Global and Block.one have finally launched the Bullish DLT exchange pilot and invited users to test it. He retweeted the tweet from the Bullish account.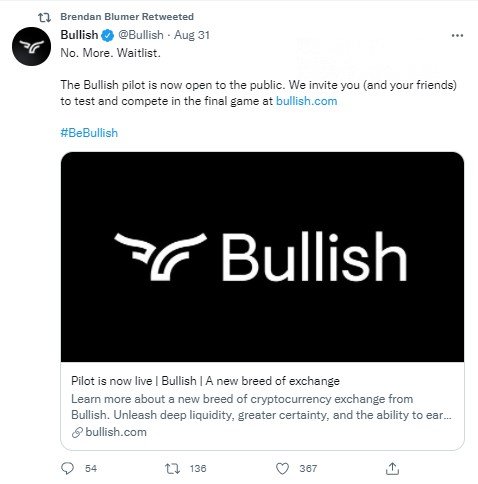 Image via Twitter
Block.one launches Bullish exchange
In May of this year, the company that stands behind the EOSIO software and EOS chain, Block.one, announced the creation of a subsidiary called Bullish Global. Bullish was focused on the making of a new DLT-based crypto exchange called Bullish. It would focus on privacy, compliance and DeFi market architecture.
The new project was backed by such renowned crypto supporters as billionaire Mike Novogratz (head of the Galaxy Digital crypto hedge fund), billionaire Peter Thiel and other big names in the world of business and investment.
Now, the CEO of Block.one, Brendan Blumer, has announced that Bullish has been launched. The new exchange is running on EOSIO and EOS.
Bullish Global was capitalized with more than $10 billion of investments in cash and crypto. Block.one was the first to provide funds for its subsidiary, investing $100 million, 164,000 Bitcoins, as well as 20 million EOS.
Bullish plans to go public
On July 9, Bullish tweeted that it intended to go public on the NYSE and merged with the Far Peak Acquisition Corporation to do so.
It stated that the former head of the NYSE, Thomas Farley, would join it as the chief executive, while Brendan Blumer would become the chairman.
1/ Bullish announces intent to go public on @NYSE via a merger with Far Peak Acquisition Corporation $FPAC.

— Bullish (@Bullish) July 9, 2021