The long/short ratio, i.e., the balance between open long positions (trades initiated by traders optimistic about short-term price performance) and shorts (the opposite trades) is normally referred to as a reliable instrument to detect general market sentiment. A prominent trader brings some good news for Bitcoin (BTC) bulls from Bitfinex.
Bullish domination: 87.7 percent
A seasoned anonymous trader who goes by Joe007 on Twitter is the most well-known whale onboarded by the Bitfinex cryptocurrencies exchange. In his recent tweet, he demonstrated how Bitcoiners are responding to the surprising upsurge of the flagship crypto with a five-week high of almost $11,500.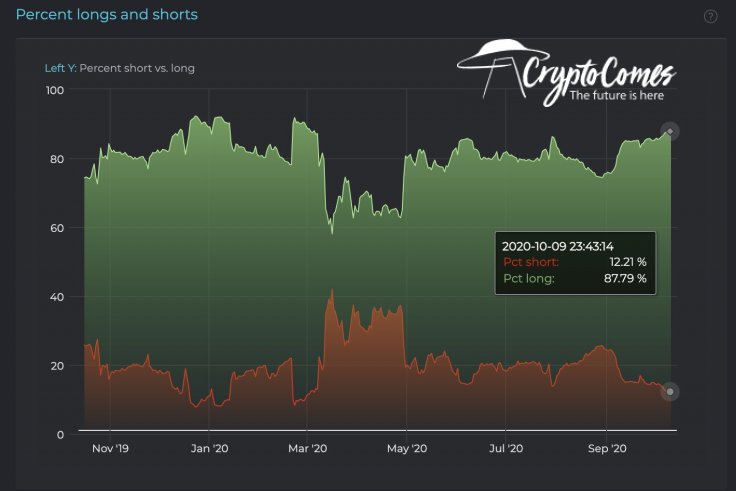 Image via Twitter
According to charts shared by Joe007, almost 88 percent of Bitcoin (BTC) margin positions active on Bitfinex right now are longs. Short trading positions are close to 12 percent.
This is one of the most bullish levels reached by the long/short ratio in the entire history of leveraged trading on the Bitfinex exchange. By contrast, immediately after Crypto Black Thursday in March 2020, 59 percent of Bitfinex positions were longs, while 41 percent were shorts.
Joe007 treats that as an indicator of incredibly positive sentiment. He applauded this bullish reversal of Bitfinex clients:
Bitfinex margin shorts have hit an all-time-low. Congrats, everyone! Crypto markets are officially, 87.7% bullish.
Tough day for bears
The volume of Bitfinex short positions dropped to multi-month lows of 3,609 BTC, as explained by another of Joe007's diagrams. Independent analytical dashboards registered a huge wave of liquidations that destroyed bears' positions in the last 24 hours.
At press time, ByBt margin trading tracker indicated $250 mln liquidations in the past day across the top-tier cryptocurrency platforms. Bears are responsible for nine out of ten liquidations.

Image by Bybt
As covered by CryptoComes previously, during the last week, Bitcoin (BTC) managed to avoid a free-fall despite incredibly alarming news about the BitMEX crackdown and President Trump's positive COVID-19 test. Both "black swans" have stolen only 3.5 percent of the Bitcoin (BTC) price.