Prominent Bitcoin (BTC) researcher, investor and entrepreneur, Vijay Boyapati, has shared his ideas about the main differences between the corrections of the Bitcoin (BTC) price in 2017 and 2021. And it is not only about depth.
Less brutal corrections in 2021
Mr. Boyapati, well known for his articles on Bitcoin (BTC) valuations, has announced that all corrections the Bitcoin (BTC) price has witnessed in the ongoing bullish cycle are far less painful than they used to be in 2017. Four years ago, the flagship cryptocurrency collapsed 30-40 percent six times before reaching its memorable peak in sub-$20K waters.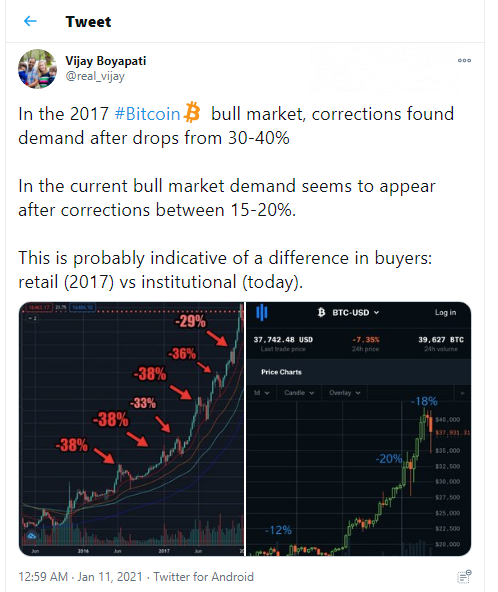 Image via Twitter
By contrast, during the ongoing rally, Bitcoin (BTC) collapsed only 15-20 percent. Mr. Boyapati indicates three corrections to prove it, which occured when Bitcoin (BTC) consequently tested the 2017 high, $32,000 (up 60 percent from the previous ATH), and the new all-time high at almost $42,000 (up 110 percent from the 2017 peak).
According to the researcher, the difference may be explained by the change in major buying catalysts.
While, in 2016-2017, the growth of the Bitcoin (BTC) price was galvanized by enormous retail interest, the ongoing rally is driven by institutional investors.
Bitcoin (BTC) collapses to $31,000: The first "real" correction or a shakeout for bears?
Sophisticated investors have much stronger hands, so the dynamics of their interest are not as volatile as that of retail Bitcoin (BTC) investors.
The increased role of institutional investors is the most remarkable characteristic of the ongoing rally. As covered by CryptoComes previously, publicly traded large-scale investors now control almost 5 percent of circulating Bitcoin (BTC) supply.
Meanwhile, on Jan. 11, Bitcoin (BTC) erased all of its gains from the last three days. In 48 hours, Bitcoin (BTC) plummeted from $42,000 to $31,000. However, this major five-digit flash crash lowered the Bitcoin (BTC) price by 23.8 percent only.
Thus, in general, Mr. Boyapati's analysis remains valid despite the massive sell-off.