Coingecko, top independent cryptocurrencies analytical team, released its first monthly report. It covers major trends in the blockchain segment in July 2020. The most interesting processes have been witnessed in the DeFi and DEX rooms.
Ethereum (ETH) eating into Bitcoin's (BTC) market share
Despite July's managing to bring the long-awaited Bitcoin (BTC) double-digit rally to all passionate hodlers of the flagship cryptocurrency, the month was dramatic for Bitcoin's (BTC) dominance indicator. It flirted with the crucial 60% level and finally dipped below it.
As a result, barely any of the crypto behemoths—Ethereum (ETH), USD Tether (USDT), Bitcoin Cash (BCH) and XRP—increased their shares of the entire crypto market cap.
The most significant increase has been demonstrated by Ethereum (ETH). Inspired by the testnet progress of Ethereum (ETH) 2.0 and the Ethereum (ETH) price's bullish run, traders increased Ether dominance from 1.9% to 12.2%. As covered by CryptoComes, many Bitcoiners decided to add ETH to their moneybags for the first time.
Also, the overall capitalization of the crypto market surpassed the numbers it showcased prior to March's Crypto Black Thursday. The rallies of major assets made crypto market cap go through the roof: it peaked at $319 bln, breaking above the previous local high of February 2020 at $292 bln.
DeFi rally continues, DEXs come in
According to calculations by Coingecko experts, the incredible run of top-level decentralized finances' native assets is nowhere near its end. The most sustainable growth is demonstrated by Aave Protocol (LEND) and Synthetix Network (SNX).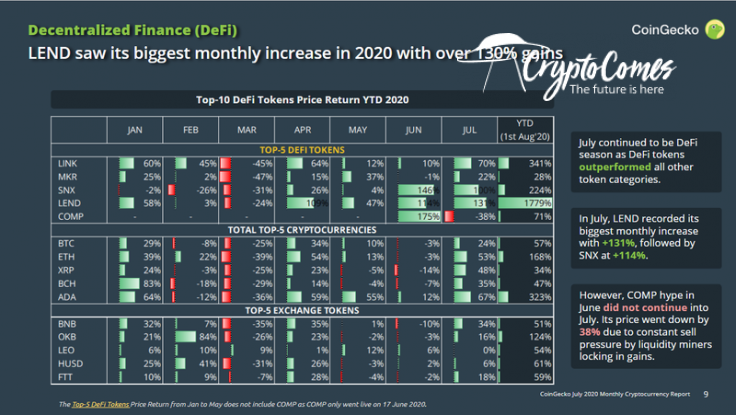 Image by Coingecko
Moreover, both SNX and LEND demonstrated two consecutive triple-digit monthly gains. LEND even increased the speed of its growth, surging by 131% in 30 days. It is also the undisputed champion in terms of one-year gains, with the enormous growth of 1.779%.
But the most exotic trend of July 2020 was the rise of decentralized exchanges, or DEXs. Trading volume in this segment more than tripled in one month and reached the unexpected level of $3.76 bln. The Uniswap decentralized trading ecosystem remains the leader of this camp with almost 50% dominance.
It attracted some trading volume from veterans of the DEX realm, Kyber Network, Bancor and dYdX. Also, specialists underlined the increasing discrepancy between centralized and decentralized exchanges:
Top-6 DEX growth outperformed top-6 CEX growth by more than 5X.