Whale Alert has shared data regarding four consecutive TRX transfers. One of them carried slightly over 1 billion TRX, making it almost two billion together with the other three wires.
One of the possible explanations for these shifts of funds could be their use in Tron-based DeFi.
Almost 2 bln TRX transferred by crypto whales
Major Twitter bot Whale Alert has reported that, over the past three hours, somebody transferred four gargantuan amounts of TRX—the thirteenth-ranked cryptocurrency with a $1,449,989,140 market cap.
The transfers were made between anonymous wallets on the Tron blockchain. That is slightly under 40 mln in fiat USD.
Tron's TRX has been on the list of cryptos tracked by Whale Alert for a quite a long time. However, such large amounts of TRX have not been moved before.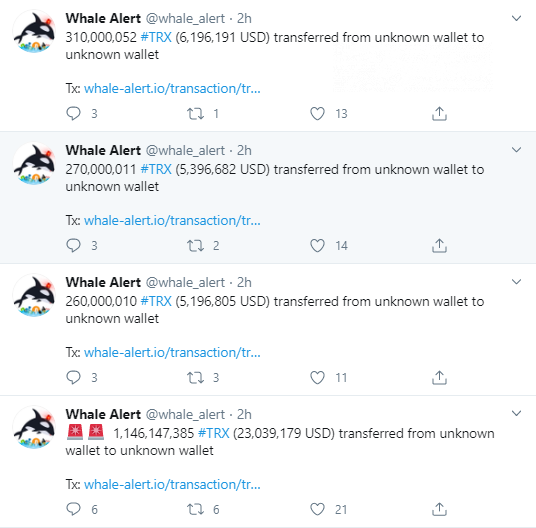 One of the reasons for these major TRX movements could be Tron's focus on decentralized finance (DeFi) apps announced by CEO Justin Sun recently.
Tron's focus on DeFi in 2020
During the recent AMA with Nischal Setty, CEO of top Indian crypto exchange WazirX, Tron chief executive Justin Sun called DeFi the biggest keyword for Tron in 2020.
Justin Sun said that Tron is going to focus on decentralized finance apps this year and mentioned the Tron-powered platform for lending and borrowing, JUST, that uses USDJ stablecoin.
Users can lock up their TRX and get USDJ for it. TRX users can also take advantage of yield farming on Tron.
Apart from that, Sun also called TRX "the major currency in the world" these days, thanks to support from the Turkish, Russian and Indian communities.
Sun stated that the Indian community is vitally important for Tron due to its 30 percent of BitTorrent and announced that the DLive streaming dapp is going to be available to Indian users in late 2020.