The XRP community is only three weeks away from its "hello world" event, XRPL fork Flare. Many XRP-focused instruments are adding new features to ensure a smooth user experience for the participants in Spark airdrop.
XRP Toolkit: What's new in v2.5.9?
XRP Toolkit shares the details of its latest release, v2.5.9. It includes an instrument to request Spark tokens in a click so that the entire claiming process will be simplified.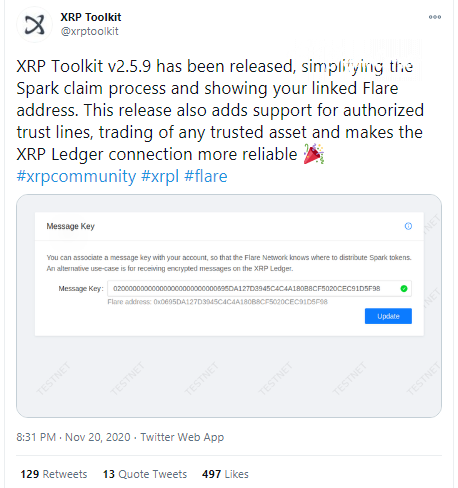 Image via Twitter
It also displays the Flare address linked to the XRPL account. Once a message key is added by the XRP holder, the system starts showing his/her 0x-address.
Additionally, the release includes support of trusted lines and allows decentralized trading of any recognized XRPL-based asset. Also, some reliability improvements were made by XRP Toolkit developers.
As covered by CryptoComes, Flare Networks will airdrop Spark tokens to all interested XRP holders in a 1:1 proportion. The snapshot of balances will be made on Dec. 12, at midnight (12:00 a.m.) GMT.
XUMM will support Tangem NFC cards
Developers of another decentralized wallet for XRP, XUMM, announced their plans to use Tangem cards as a security option for the upcoming releases. According to Mr. Wietse Wind, lead developer of XRPL Labs, it advances the key management of XRPL accounts:
The card holds a non extractable private key. It's not a retail payment card: it is like a mnemonic or family seed / secret numbers, but not on your device. Eg. for larger accounts holding more funds, you'd need and your phone and the card to access the funds, which is safer.
This special edition of branded XRP cards will be available in the Tangem store soon. The new feature will be free for the owners of XUMM Pro accounts.
The Tangem team has already released NFC-powered cards for Bitcoin (BTC), Ethereum (ETH), Stellar Lumens (XLM), Cardano (ADA) and Tezos (XTZ).
On Nov. 19, the much-anticipated "Hooks" amendment that empowers XRPL with basic smart contracts functions was released for the last stage of testing, as reported by CryptoComes.