Less than two weeks divide us from a much-anticipated snapshot of XRP balances for Spark (FLR) token distribution. Top-tier exchanges with massive user bases are trying to catch the last ride to avoid the exodus of XRP Army soldiers.
Kraken is on board
The undisputed veterans of cryptocurrency trading and one of the first centralized exchanges ever, Kraken, has confirmed its support for Spark airdrop. More details will be released very soon in a special blog post regarding the upcoming airdrop.

Image via Twitter
According to leading independent analytics service Coingecko, Kraken is the third most popular exchange by 24-hour trading volume. Surpassed only by giants Binance and Coinbase, it processes more than $ 1 billion in user funds every day.
Almost 10 percent of this enormous amount should be attributed to XRP pairs with USD, EUR, Bitcoin (XBT), etc. Thus, XRP is among the most important assets for Kraken.
In accordance with infographics by Croatia-based XRP community activist Dario Šuveljak—who goes by @stedas on Twitter—Kraken has joined the group of 48 services that support Spark (FLR) distribution by Flare Networks.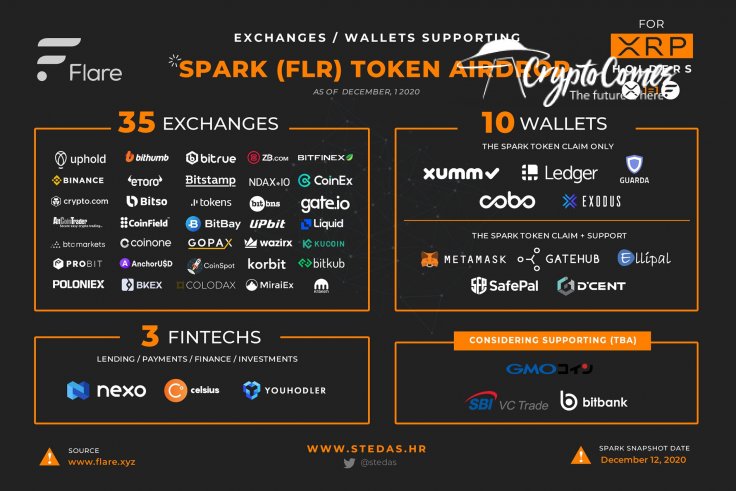 Image via Twitter
BTSE also joins the team
A U.S.-based multi-platform cryptocurrency ecosystem BTSE has also released a statement regarding the upcoming Spark (FLR) airdrop. Its team stresses that this decision is made to meet community interest in Flare, a utility fork of XRP Ledger:
BTSE wants to always give users its best and in order to strive as a top tier exchange, it makes sense to offer support to projects like Flare in order to give users what they want. The Spark token is another addition to users in this way by supporting great projects.
XRP enthusiasts highly appreciate the policy of new supporters and ask Revolut and Coinbase representatives about their plans for their platforms.
Spark (FLR) will be a backbone asset of Flare, an Ethereum-compatible Turing complete blockchain built on Avalanche consensus. It will empower XRP Ledger mechanisms with smart contract functions.
On Dec. 12, the snapshot of XRP balances will be taken on supporting exchanges. Spark (FLR) will be distributed in early-to-mid 2021 in a 1:1 proportion to XRP balances by the time of the screenshot.