According to a statement by Paolo Ardoino, CTO of Tether and Bitfinex, a new product went active today, Oct. 26. Now Bitfinex traders can benefit from the price fluctuations of silver (XAG).
Perpetual contracts for silver (XAG) go live on Bitfinex Derivatives
Bitfinex Derivatives, the contracts trading arm of Bitfinex top-tier cryptocurrency exchange, announced the activation of a new product. Starting from Oct. 26, 9:00 a.m. UTC, traders can buy/sell perpetual contracts (derivative positions without expiration dates) on the price of silver (XAG).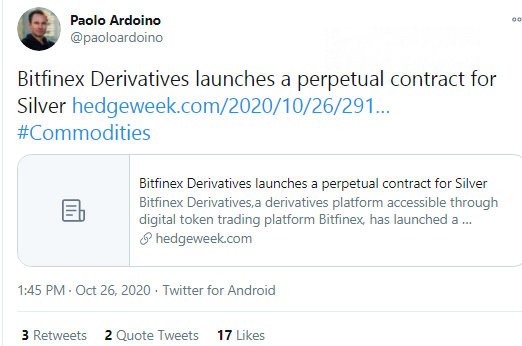 Image via Twitter
A new contract dubbed XAGF0:USTF0 is available with up to 100x leverage. Perpetual contracts on silver will be settled in U.S. Dollar Tethers (USDT), the world's most liquid stablecoin, issued by Tether Limited.
According to Ardoino, the new opportunity will be useful for experienced market participants who are focused on building well-balanced portfolios:
This offering is available to sophisticated traders for the purposes of hedging and managing risk.
Bitfinex Derivatives is operated by iFinex Financial Technologies Limited. Its services are available for clients who successfully unlocked the "Full" level of verification.
Pioneering product for crypto market
Investment and trading products that provides users of crypto with exposure to traditional real-world assets (commodities, metals, oil, etc.) remain quite rare for crypto-focused platforms.
Occasionally, some ForEx brokers offer Bitcoin (BTC) and Ethereum (ETH)-settled positions for Gold (XAU) and Silver (XAG). However, they are not available with leverage similar to Bitfinex's. Thus, this release by Bitfinex is pioneering for the entire segment.
As covered by CryptoComes, two months ago, on Aug. 25, Bitfinex added a number of red-hot tokens to its leveraged trading suite. This update followed requests of top-level Bitfinex traders.
Polkadot New (DOT) and Chainlink (LINK) went live on Bitfinex with a 3.3x margin with an initial equity of 30 percent and a maintenance margin of 15 percent. Both assets are available against USDT and USD.