According to data shared by leading on-chain statistics provider Coin Metrics, the net market capitalization of all USD Tethers (USDT) surpassed $20 billion. Thus, USDT by Tether Limited became the first-ever stablecoin to accomplish this incredible milestone.
Total assets: $20,003,356,470.15
Today, Dec. 14, the market capitalization of U.S. Dollar Tether (USDT) surpassed $20 billion for the first time. USDT's capitalization remains the highest within the entire segment by far: its closest chaser, USD Coin (USD) by Circle, barely surpasses $3.1 billion in market cap.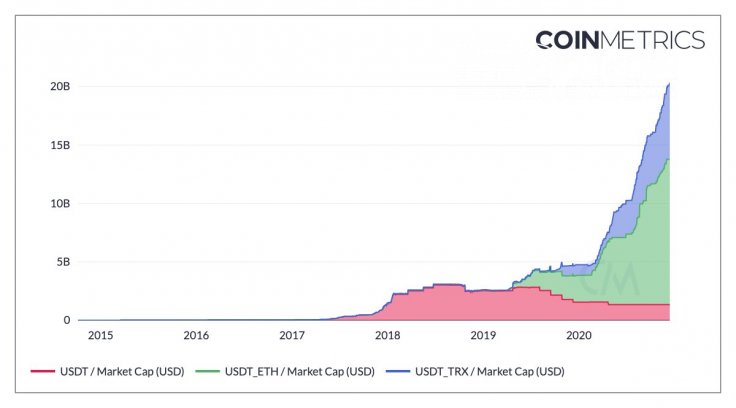 Image by Coin Metrics
In terms of the net value of assets on balance, this milestone has already been confirmed by Tether Limited, the issuer of USDT. Meanwhile, of this mammoth sum, $162,359,914.68 are labeled as "Less: Authorized but not issued" tokens.
It means that Tether Limited approved the creation of this token, reserved the assets they are backed by and is now waiting for USDT minting.
This situation may confuse crypto enthusiasts: besides Coin Metrics, the $20 billion milestone achievement by Tether is confirmed by Messari's Stablecoin Index project. At the same time, CoinGecko's dashboard still broadcasts $19.88 as the current USDT market cap.
2020: Incredible year for stablecoins
The majority of Tethers (USDT) are minted on Ethereum (ETH) blockchain ($12.44 billion in equivalent) while $6.44 billion are live on Tron (TRX). The initial blockchain of USDT—Bitcoin-based Omni Platform—hosts $1.33 billion in equivalent.
Also, tiny fractions of the USDT supply are issued on the Eos (EOS) and Algorand (ALGO) blockchains, on Bitcoin Cash SLP solution and on Bitcoin's sidechain Liquid.
This year was marked by the ballistic growth of the stablecoin supply. In January 2020, it barely surpassed $5 billion, while today stablecoin platforms have $26.15 billion tokenized.
The algorithmic stablecoin DAI witnessed the most impressive growth, as its capitalization spiked from $42.4 million to almost $1.1 billion in equivalent.