Another day, another rug pull in the turbulent segment of decentralized financial applications. Neither the "Santa Claus" rhetoric nor "support" by the most annoying anonymous crypto pundits helped greedy "farmers" to save their bags from an exit scam.
Santa can't deliver his gifts to greedy "yield farmers"
Some hours ago, decentralized liquidity protocol Santa DAO pulled an exit scam. Approximately $200,000 in Ether-based assets have disappeared with the protocol team. One Ethereum wallet related to scammers holds $146,723 at press time.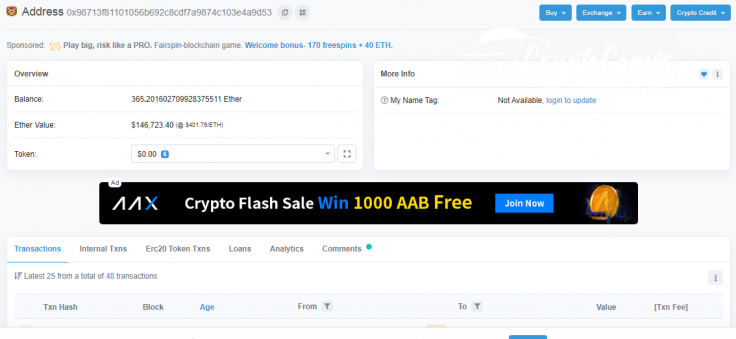 Image by Etherscan
Scammers are actively laundering their loot through Uniswap and another decentralized exchanges. Many addresses affected by this process have been labeled as "phishing" by Etherscan. This fact may mean that there are seasoned fraudsters behind the Santa DAO "rug pull."
The Twitter account of the product has been deleted, and the last users are leaving its Telegram communities. The official website has been taken down, and all public accounts associated with Santa DAO are not active anymore.
Santa DAO went live in early Oct. Its team claimed that, starting from Oct. 26, liquidity pools with its native HOHO tokens would go active on Uniswap. It was planned to list HOHO against Ethereum (ETH), top-tier stablecoins (USDT, USDC, DAI) and even against synthetic Ether-based Bitcoins (WBTC).
Promo on Twitter has never been so toxic: DYOR always
While this scam itself is not so interesting or sophisticated, it was aggressively promoted on Crypto Twitter by anonymous "experts." Very powerful influencers, such as @LilMoonLambo (55.1K followers) and @BullRun_Gravano (10K followers), explicitly supported the project hours before it pulled the exit scam.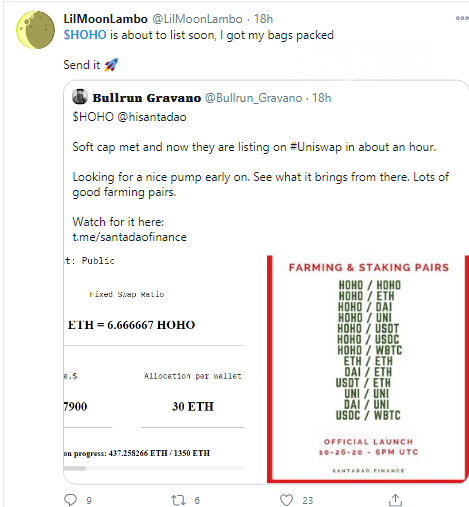 Image via Twitter
While some of these announcements are still available on Twitter, many of the Santa DAO promoters are making apologies and even claiming that they also fell victim to blatant scammers.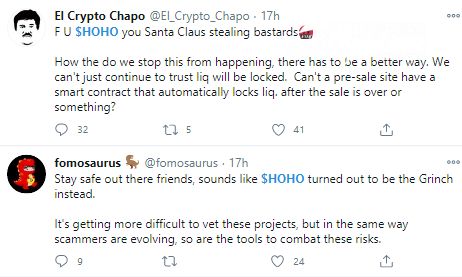 Image via Twitter
Many other popular Crypto Twitter traders and analysts reported that they had been repeatedly contacted by Santa DAO managers with offers to promote the project.
Some of the victims are certain that they know the exact names of the Santa DAO masterminds. They launched a hashtag, #REFUNDORJAIL, to make them return the investments.