XRPL Monitor has shared data that the San Francisco-based blockchain decacorn Ripple transferred several XRP lumps, which together make up 81.1 mln XRP. That totals $23,949,918.
Overall, now that XRP has reached the $0.30 high, major players have been moving large portions of XRP actively.
Ripple sends 52.5 mln XRP
The DLT heavyweight has moved almost 53 mln XRP, which totals $15,473,591. There were four transactions: two carrying 16 mln and two bearing 10 mln XRP each.
According to data from the Bithomp analytical website, these funds were moved directly between Ripple wallets, including one titled RL18-VN—which is believed to be an alternative Ripple escrow wallet.
Ripple has over 300 customers utilizing RippleNet—including financial institutions and remittance companies like MoneyGram—some of which use Ripple's ODL for wiring funds across the world without having to prefund their bank accounts in the target countries and require XRP for frequent use.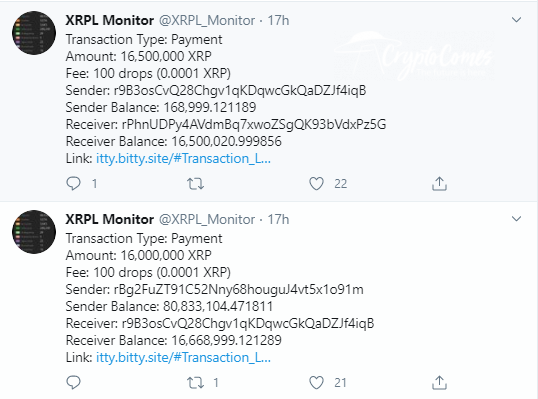 Image via Twitter
Ripple wires 15 mln XRP to Coinbase Pro
The XRPL Monitor bot also spread the word that Ripple transferred 15 mln XRP to Coinbase Pro. This major crypto exchange moved about 14 mln XRP to Bitstamp—a Luxembourg-based exchange that hosts Ripple's European ODL corridor.
Major players are actively moving XRP
Over the past twenty-four hours, other big crypto players have also been noticed moving large XRP stashes. Among them is the major South Korean exchange Bithumb, crypto lending service Celsius Network, Coinbase Pro (another 15 mln XRP moved between its wallets) and major crypto custodial service BitGo that works with institutional investors.
XRP has recently reached a long-expected high of $0.30 and broken above it, following the recent break of Bitcoin above the $12,000 level. Market players have started moving their XRP after the coin's exchange rate surged.