According to the official statements of the IOTA Foundation and the Simplex crypto-to-fiat payments operator, a new partnership will facilitate mass adoption of the IOTA (MIOTA) token.
IOTA (MIOTA) can be purchased with fiat via Simplex paygates
It was announced today, on July 6th, 2020, that IOTA will integrate with the Simplex crypto-to-fiat payment processor. Within the framework of this integration, crypto traders will be able to purchase IOTA (MIOTA) seamlessly with their credit and debit cards.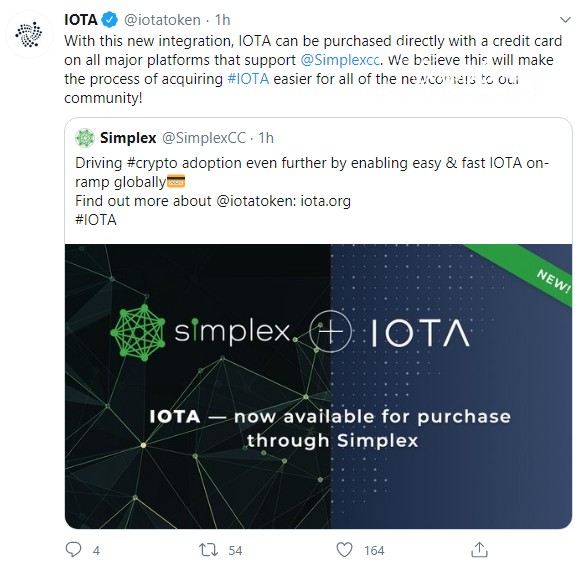 Image via Twitter
Purchasing IOTA (IOTA) tokens will be possible on all platforms powered by the Simplex fiat infrastructure. The IOTA Foundation highlights that this novelty will be particularly meaningful for newcomers to the crypto segment and the IOTA ecosystem.
Simplex is an industry-leading firm that pioneered many crypto-to-fiat payment solutions. Its paygates are widely utilized by many top-notch services.
IOTA (MIOTA) token price has surged almost 6.5% today and is changing hands at $0.2416 on major spot platforms, according to Coingecko statistics.
Walking the road to adoption
The IOTA Foundation is working on decentralized systems for many IoT use-cases. Recently, the IOTA-fueled Digital Health Passport (IOTA Selv) was mentioned as a leading blockchain social initiative by the European Fundraising Association.
Also, IOTA will completely decentralize its data structure by removing its single centralization point, Coordinator. The first stage of the new IOTA decentralized testnet, Pollen, was launched a week ago, on June 30, 2020.
The Pollen testnet is onboarding developers from all over the globe to test and verify the solutions that will power IOTA decentralized systems in the future.