Crypto derivatives exchanges are ready to join the "complete decentralization" trend. FTX, one of the pioneers of the contracts trading segment, will roll out a DEX named Serum.
"Usable product is almost here"
Entrepreneur and blockchain researcher Sam Bankman-Fried has revealed that his new product, Serum derivatives exchange, is almost ready for launch. Serum will allow its clients to trade cryptocurrencies contracts in a completely decentralized manner.
1) It's taken a huge effort from dozens of developers, designers, project managers, and community members; but things are coming together:

I'm excited to say that the first trade on the Serum DEX will print this week.@ProjectSerum

— SBF (@SBF_Alameda) August 11, 2020
He also stressed that the community should not expect final deployment of the decentralized trading instrument in the upcoming release. Developers, engineers and managers still have a lot of work to do—particularly in terms of the graphic user interface, API integration tools, wallets and documentation.
At the moment, Serum DEX exists in command line only, but it acts as a proper on-chain DEX. Mr. Bankman-Fried attached a sneak peek of Serum's orderbook to demonstrate the prototype's GUI.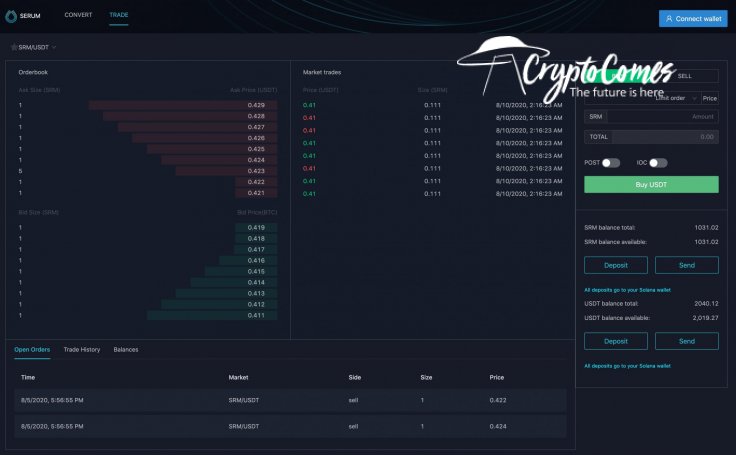 Image via Twitter
Also, the FTX CEO has shared details regarding the listing of Serum's DEX native asset, SRM token. It will go live today, Aug. 11th, on numerous exchanges including Binance and Uniswap.
Revolutionary use case for Solana
It is interesting that this one-of-a-kind product will work on top of the Solana (SOL) blockchain. Launched by former Qualcomm and Dropbox officer Anatoly Yakovenko, it showcases a great block speed of 400 ms and brilliant throughput of 50,000 transactions per second, according to the product website.
Based on the proof of history consensus solution, it also has negligible transaction fees. Solana positions itself as the "world's first web-scale blockchain."
Thus, onboarding such an unusual product, like the first crypto derivatives DEX, is an impressive challenge for Solana.